Welcome to the Oregon Consortium for Nursing Education (OCNE)
The OCNE curriculum, based on a set of 10 core competencies, is designed to educate a nurse who can provide care to individuals, families and communities in health promotion, acute or chronic illness and at the end of life. OCNE graduates are skilled in clinical judgment, systems thinking, leadership, evidence-based practice and culturally appropriate, relationship-centered care.
OCNE partner schools share common prerequisites and admissions standards. OCNE students take the same core nursing courses in year 1 and year 2, regardless of which campus they attend. Students on OCNE community college campuses have the option of completing the Associate of Applied Science degree in nursing, taking the RN licensure exam, and continuing directly to OHSU senior level coursework required for the Bachelor of Science (BS) degree through the Portland campus or online/distance delivery.

With the distance option, OCNE students can complete coursework for the BS without leaving their home community.
Participating OCNE Schools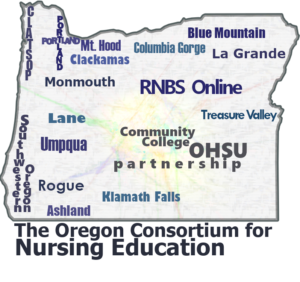 RNBS Completion - OHSU Online Program

Community College - Associates Degree Programs

OHSU - Bachelor Degree Programs
The Oregon Consortium for Nursing Education
c/o Oregon Health & Science University
3455 SW US Veteran's Hospital Rd.
Mail Code SN-6
Portland, Oregon 97239
Faculty Links and Materials
Oregon Consortium for Nursing Education
c/o Oregon Health & Science University
3455 SW US Veteran's Hospital Rd.
Mail Code SN-6S Portland, Oregon 97239